Photos from Vivian's movie "Cafe.Waiting.Love" 06/16/14


Vivian at Ms. Ideas Grand Opening in Taiwan (April 23, 2014) 06/16/14


Vivian at Century Sakura 9th Anniv. Celebration in Shenzhen, China (3/18/14) 05/18/14


Vivian at CCTV TV Series Press Conference in Beijing, China (3/17/14) 05/18/14


Vivian on now TV's program "Date with Beauty" (March 3, 2014) 03/23/14


Vivian at EEG's Spring Banquet (February 24, 2014) 03/01/14


Vivian at "Cafe.Waiting.Love" Movie Press Conference in Taiwan (1/17/14) 03/01/14


Vivian at Vivian Lai's "All For Love" Charity Concert (November 29, 2013) 12/30/13


Vivian at Caffe A` La Mode by Holly Brown Grand Opening (11/12/13) 11/24/13


Vivian at Green Monday Press Conference (October 16, 2013) 10/27/13


Vivian at Suisse Programme Press Con & SASA shop visit in Singapore (10/10/13) 10/15/13


Vivian as Green Monday International Ambassador (9/2013) 10/15/13


Vivian's visit to Sri Lanka with World Vision (August, 2013) 10/15/13


Vivian at Suisse Programme Press Conference (September 18, 2013) 9/30/13


Vivian at Love Eternity Music Show in Macau (September 14, 2013) 9/30/13


Making of Vivian's Suisse Programme TV Commercial (August, 2013) 9/23/13


Vivian at Leo Ku's Concert in Guangzhou, China (September 7, 2013) 9/23/13


Vivian at Anzenchitai 30th Anniv. Concert Live in HK (August 31, 2013) 9/23/13


Vivian at MSF Day (July 7, 2013) 9/02/13


Vivian on "Day Day Up" TV Program in Changsha, Hunan, China (June 25, 2013) 9/02/13


Vivian at Steven Ma's New Album Press Con (June 25, 2013) 9/02/13


Vivian at AquaMeridian Charity Event (June 13, 2013) 6/17/13


Vivian Wearing Galtiscopio Watch (June, 2013) 6/17/13


Vivian at 'Miss You Much Leslie' Memorial Concert (March 31, 2013) 6/17/13


Vivian at Galtiscopio Glorious Collection Launching Press Con (5/28/13) 6/05/13


Making of Vivian's Suisse Programme Print Ad #2 6/05/13


Elyze Print Ad (May 2013) 5/29/13


Vivian at Wanda Plaza Concert in Jiang Men, China (May 19, 2013) 5/28/13


Vivian at Agile Property Event in Zhongshan, China (May 18, 2013) 5/28/13


Vivian at Occasions 25th Anniversary Gala Dinner (May 15, 2013) 5/26/13


Vivian at Sa Sa's 35th Anniversary Celebration (March 25, 2013) 4/07/13


Making of Vivian's Suisse Programme Print Ad 4/03/13


Vivian at New Years Celebration for Overseas Chinese in France (2/15/13) 2/27/13


Vivian on TVB Golden Viva Spectacular (February 5, 2013) 2/17/13


Vivian at Shirley Kwan's Concert Backstage (February 3, 2013) 2/17/13


Vivian at Show Luo's Concert (January 20, 2013) 1/28/13


Vivian at Kathy Chow's Wedding Banquet (January 12, 2013) 1/15/13


Vivian and Friends (December 16 and December 17, 2012) 12/30/12


Vivian and Joe at Christmas Eve Dinner (December 24, 2012) 12/28/12


Vivian at Real Estate Event in Hengyang, Hunan, China (12/22/12) 12/28/12


Vivian at Wanda Plaza Event in Changzhou, Jiangsu, China (12/09/12) 12/17/12


Vivian at Charity Event in Guangzhou, China (December 5, 2012) 12/17/12


Vivian at Tourism Festival Opening at Fengyang, Anhui, China (12/01/12) 12/17/12


Vivian on "The Winner Is" TV Program in Changsha, Hunan, China (11/17/12) 11/25/12


Vivian at "Journey of Love" Guangzhou Concert Autograph Session (10/12/12) 10/29/12


Vivian at Guangzhou Textile Exchange Park Opening Ceremony (10/12/12) 10/29/12


Vivian at Central Champs Event in Nanchang, Jiangxi, China (9/29/12) 10/9/12


Vivian at Elyze Body Youth Press Conference (September 27, 2012) 10/9/12


Vivian at "Journey of Love" Guangzhou Concert Press Con (9/17/12) 10/6/12


Vivian at Super Life Press Conference in Taiwan (September 11, 2012) 10/6/12


Making of Vivian's Elyze Ad (September, 2012) 9/30/12


Vivian at Events in Ningbo, Zhejiang, China (September 4, 2012) 9/30/12


Vivian at Wanda Plaza Event in Dongguan, Guangdong, China (8/26/12) 9/2/12


Vivian at Swarovski "Kingdom of Jewels" Fall/Winter Launch (8/9/12) 9/2/12


Vivian at Wanda Plaza Event in Weifang, Shandong, China (8/4/12) 8/25/12


Vivian at World Vision Used Book Recycling Campaign Event (8/2/12) 8/25/12


Photo Shoot for "Cosmopolitan" Magazine - August 2012 issue 8/04/12


Vivian at ESCADA Fall Winter 2012 Series Fashion Preview (July 4, 2012) 7/09/12


Vivian at Wanda Plaza Event in Kaifu, Changsha, China (June 23, 2012) 7/03/12


Making of Vivian's Elyze Ad 2012 (Summer) 6/24/12


Vivian at Joe's Billiards & Bar MK Grand Opening (June 7, 2012) 6/20/12


Vivian and Joe's trip to the Holy Land in the Middle East (2012) 6/17/12


Vivian at Cambridgeshire Event in Guangzhou, China (December 17, 2011) 5/04/12


Vivian at Wanda Plaza Event in Jinjiang, Quanzhou, China (April 15, 2012) 4/22/12


Vivian at Chopard Jewellery Event in Sanya, Hainan, China (April 7, 2012) 4/17/12


Vivian at Chris Wong's "True Colors" 25th Anniv. Concert (3/25/12) 4/11/12


Vivian at Chris Wong's "True Colors" 25th Anniv. Concert (3/24/12) 4/11/12


Vivian at The 1st De RUCCI Cultural Sleep Festival (March 10, 2012) 3/24/12


Vivian at Apple Daily Newspaper Taiwan Interview (February 21, 2012) 3/18/12


Vivian on "Here Comes KangXi" Taiwan TV Program (February 22, 2012) 3/08/12


Vivian at "All About Love" Filming Location at Central (11/29/09) 3/03/12


Vivian at World AIDS Campaign 2009 Event (November 29, 2009) 3/03/12


Vivian at Make-A-Wish Event (November 8, 2009) 3/03/12


Vivian at Super Life Youth Cream Press Conference in Taiwan (2/21/12) 2/26/12


Vivian at Nnadia Chan's Concert (February 15, 2012) 2/19/12


Vivian's Visit to DVD Factory 2/12/12


"Pink Revolution" Press Conference 2009 (10/07/09) 2/12/12


Vivian at "Wild Wild Rose" The Musical (September 30, 2009) 2/12/12


Vivian at Deep V.25 Concert DVD Premiere (January 21, 2012) 2/6/12


Vivian at Jaguar Land Rover Hong Kong Launch (December 8, 2011) 2/3/12


Vivian at HK AIDS Foundation 20th Anniv. Charity Dinner (11/30/11) 2/3/12


Vivian at HK AIDS Foundation 20th Anniv. Drama - Positive Lives (11/12/11) 1/28/12


Vivian at Starlight Garden Lighting Ceremony (November 7, 2011) 1/28/12


Vivian at Fashion Visionaries Award 2011 Presentation (11/4/11) 1/28/12


Vivian at TSL Jewellry Event (October 20, 2011) 1/23/12


Vivian at Montblanc Event (December 1, 2011) 1/8/12


Vivian's visit to Mongolia with World Vision (October, 2011) 1/2/12


Vivian at Dongguan Concert (November 25, 2011) 1/2/12


Vivian's Birthday Party (November 6, 2011) 12/26/11


Vivian at Lawrence Cheng and Sandy Lamb's 30 Fairies Concert (11/5/11) 12/26/11


Vivian's Birthday Photo (November 10, 2011) 11/27/11


Vivian at PolyGram Annual Gathering (October 24, 2011) 10/30/11


Vivian at Shiseido Event (August 31, 2009) 10/23/11


Vivian at ESCADA Fashion Show (August 25, 2009) 10/23/11


Artistes 88 Fundraising Campaign concert (August 17, 2009) 10/23/11


Vivian at Glam Slam Fashion Show (October 13, 2011) 10/16/11


Vivian at 2011 Bestsbet Cup World 9-Ball Invitation (October 6, 2011) 10/16/11


Vivian at NEO DERM Charity Day for Africa Hunger Relief (9/18/11) 9/25/11


Vivian at Dinner with Nnadia Chan, Joe, and Charles Gui (Sept., 2011) 9/12/11


Making of Vivian's Elyze Ad 2011 (August) 9/12/11


Vivian at The Venetian Macao Anniversary Concert (August 27, 2011) 9/06/11


Vivian at Elyze Press Conference (August 16, 2011) 9/06/11


Vivian at Miss Hong Kong Pageant (August 7, 2011) 8/22/11


Vivian at Miss Hong Kong Pageant Press Con (August 2, 2011) 8/22/11


Vivian at "Wasao" Charity Movie Premiere for NPV (August 3, 2011) 8/14/11


Vivian at Johnnie Walker Blue Label Event in Shanghai (July 26, 2011) 8/01/11


Vivian at "Wasao" Movie Voice Dubbing Recording Session (July, 2011) 8/01/11


Photo Shoot for "Darizi" Magazine #32 - June 2011 issue 6/18/11


Vivian's MV Photos 6/14/11


Vivian at Galaxy Macau Grand Opening (May 15, 2011) 5/23/11


Vivian at Crossroads Foundation Fundraising Gala (May 7, 2011) 5/23/11


Vivian at World Vision 30 Hour Famine Event (April 17, 2011) 4/30/11


Vivian at Wanda Mansion Event in Shanghai (April 16, 2011) 4/25/11


Vivian at Longchamp "La Maison 8" Asian Flagship Store Opening (3/29/11) 4/10/11


Vivian appointed as the 2011 Charity Ambassador of China (March 26, 2011) 4/10/11


Vivian and Yoshie Kashiwabara (March 17, 2011) 4/4/11


Vivian at 9th More Beauty Product Award Presentation (March 8, 2011) 3/15/11


Vivian at Dior Event (January 28, 2011) 2/13/11


Making of Vivian's Neway Ad (January, 2011) 2/13/11


2010 JSG Music Awards show (January 15, 2011) 1/31/11


Beloved V25 TVB Special (January 14, 2011) 1/31/11


Vivian at Pandora Shop Opening (December 16, 2010) 1/31/11


Vivian "Deep V. 25" Concert Press Conference (January 3, 2011) 1/17/11


Vivian at ABC (A Big Company) Shop Opening (November 17, 2010) 12/12/10


Vivian in Taiwan to Promote "All About Love" (November 12-14, 2010) 12/12/10


Vivian at MINI Cooper Countryman Launch Party (November 11, 2010) 12/5/10


Vivian at La Bestcare events in Beijing and Qingdao (11/8-11/10/10) 11/29/10


Making of Vivian's La Bestcare Print Ads 11/29/10


Vivian at Cosmo Beauty Awards (November 1, 2010) 11/22/10


Vivian at AIGLE Fashion Presentation (October 18, 2010) 11/9/10


Making of Vivian's Aigle Print Ad 10/31/10


Vivian at Piaget Event in Shanghai (September 28, 2010) 10/25/10


Vivian at Balenciaga Boutique Grand Opening (September 24, 2010) 10/25/10


Vivian at Joy & Peace PR Event in Beijing (September 21, 2010) 10/21/10


Vivian at Chris Wong's Concert Rehearsal (September 14, 2010) 10/21/10


Max Mara Fashion Preview (September 9, 2010) 10/11/10


Photos from Vivian's movie "All About Love" 9/5/10


Vivian and William Chan Wai Ting Photos From Recent Interviews 9/5/10


"All About Love" Premiere (August 24, 2010) 9/5/10


Photo Shoot for "Jessica Code" Magazine #96 - September 2010 issue 9/01/10


"All About Love" Promotional Event (August 22, 2010) 8/29/10


The 5th HK SIFF: "All About Love" World Premiere (August 11, 2010) 8/22/10


Vivian and Sandra Ng Kwan Yu Photos From Recent Interviews 8/8/10


Vivian at RTHK Event - "Cat's World" Animation TV Series (6/18/10) 6/25/10


Vivian on "A Date With Luyu" TV Program (April 25, 2010) 5/31/10


Vivian at 2009 Entertainment Awards Ceremony in Beijing (April 25, 2010) 5/09/10


Vivian's visit to Vietnam with World Vision (March 22-25, 2010) 4/20/10


Vivian appearing on "My Story In Songs" with Leo Ku (April 11, 2010) 4/11/10


Vivian at Hong Kong AIDS Foundation Event (March 26, 2010) 4/11/10


Vivian at Marc Jacobs Event (March 16, 2010) 3/22/10


Vivian and Joe at The CEO Foundation Event (July 4, 2009) 2/22/10


Vivian at Elyze Press Conference (May 21, 2009) 2/22/10


Vivian at Grand Opening of Giorgo Armani Boutique (May 8, 2009) 2/22/10


Vivian watching Leo Ku's concert (April 23, 2009) 2/12/10


Vivian at World Vision 30 Hour Famine Closing Ceremony (4/19/09) 2/12/10


Vivian at Joe's Billiards & Bar TST Grand Opening (4/10/09) 2/12/10


Vivian at China AIDS Initiative - Check Presentation Press Con (3/3/09) 2/6/10


Vivian at CR903 radio program "Wa! Wa! Wa!" (February 12, 2009) 2/6/10


Vivian and Joe's 1st Wedding Anniversary (January 5, 2010) 1/10/10


Vivian at NPV Charity Movie Premiere of "Hachiko: A Dog's Story" (1/5/10) 1/10/10


Vivian at NPV Check Presentation Ceremony (December 25, 2009) 1/02/10


Vivian at The 53rd Asia Pacific Film Festival (December 19, 2009) 12/25/09


Vivian at "Cutting Edge X'mas" Fashion Show (December 12, 2009) 12/22/09


Photo Shoot for Marie Claire Magazine #230 - November 2009 issue 10/28/09


Making of Vivian's Elyze Print Ad 2009 (September) 10/03/09


Vivian at World Vision 30 Hour Famine Press Con (February 3, 2009) 9/21/09


Vivian at Omega Flagship Store Event (January 13, 2009) 9/21/09


Sowers Action - Canned Soup Label Design Awards Ceremony (11/29/08) 9/12/09


Vivian at TVB AIDS Charity Show (Nov. 22, 2008) 9/12/09


Vivian at China Aids Initiative Press Conference (Nov. 13, 2008) 8/31/09


Shiseido Charity Sale for Unicef Girls' Education in China (11/9/08) 8/31/09


Vivian Shiseido Revital Press Conference in Shanghai (July 22, 2009) 8/21/09


Vivian at Montblanc Event "Journey Through Time" in Beijing (11/7/08) 8/17/09


"Pink Revolution" Press Conference 2008 (10/09/08) 8/17/09


Vivian's 20th Anniversary Celebration - Fans Gathering (May 31, 2009) 8/17/09


Vivian at Leon Lai's "Magic Live" Concert (Nov. 9, 2008) August 10, 2009


Vivian and Joe's visit to Luoyang with The CEO Foundation (6/3/09-6/5/09) 7/5/09


Making of Vivian's Elyze Print Ad 2009 (Spring / Summer) 5/25/09


Making of Vivian's Shiseido Print Ad 2009 (Spring / Summer) 5/10/09


Photo Shoot for Cosmopolitan (China) April 2009 issue 3/29/09


Vivian's visit to Nepal with World Vision (Feb. 4 - Feb. 8, 2009) 3/10/09


"Hunan Satellite TV - Baidu 2008 Search Rankings" Awards Ceremony (2/19/09) 3/8/09


Vivian at Adidas Sport in Art Event (September 18, 2008) 2/08/09


Vivian Shiseido Revital Press Conference 2008 (9/11/08) 2/08/09


Vivian at BCBGMAXAZRIA Fashion Show (August 28, 2008) February 2, 2009


Making of Vivian's Elyze Print Ad #3 February 2, 2009


Making of Vivian's Shiseido Print Ad 2009 January 30, 2009


Vivian and Ngai Hong at Xiao Tian Gu sweets shop (1/2009) January 29, 2009


Vivian at Fendi Fashion Show (August 12, 2008) January 29, 2009


Vivian at Elyze Press Conference (July 8, 2008) January 29, 2009


Vivian Radio Interview for Ming Pao Weekly's 40th Anniv. (6/28/08) 1/25/09


Artistes 512 Fundraising Campaign concert (June 1, 2008) 1/25/09


Vivian at Oxfam Rice Sale (May 24, 2008) January 25, 2009


Vivian and Joe's Wedding (January 5, 2009) January 11, 2009


Vivian's visit for China AIDS Initiative (October, 2008) 12/02/08


Singapore Shiseido and Breast Cancer Fund Charity Event (10/11/08) 11/21/08


Vivian at Oxfam Photo Exhibition Opening Ceremony (5/3/08) 11/09/08


Vivian at Oxfam Press Conference (April 8, 2008) 11/09/08


Vivian at Next Magazine TV Awards 2008 (March 26, 2008) 11/09/08


Vivian at Elyze Press Conference (March 13, 2008) 9/28/08


Computer Recycling Programme Launching Ceremony (1/12/08) 9/28/08


Making of Vivian's Shiseido Print Ad 2008 September 6, 2008


Photo Shoot for Jessica Magazine #98 - August 2008 issue 8/27/08


Vivian at Society for Abandoned Animals Event (2/16/08) 8/17/08


Vivian at World Vision Event (12/09/07) 8/17/08


Vivian at HongKong Walker 1st Magazine Issue Press Con (11/23/07) 8/17/08


Vivian at Christmas Lighting Ceremony at IFC mall (11/22/07) 8/17/08


Vivian at Cosmo Best of the Best Beauty Awards 2007 (11/21/07) 8/17/08


Oxfam Rice Sale Campaign Prize Presentation Ceremony (7/25/08) 8/12/08


Elyze Print Ads #2 August 7, 2008


Neo Derm HKMA Gold Ceremony (July 21, 2008) July 23, 2008


Making of Vivian's Elyze Print Ad #2 July 4, 2008


Making of Vivian's Elyze Print Ad July 4, 2008


Cover Girl of the '90s July 1, 2008


Vivian's visit to Yunnan with Oxfam (March, 2008) April 11, 2008


Vivian Voter Registration Poster and TV Ad April 9, 2008


Photo Shoot for More Sunday Magazine #538 - 4/01/08 issue April 1, 2008


Making of the Tobacco Control Office short promotional video 3/09/08


Vivian at Charity Awards ceremony in Shanghai (March 1, 2008) 3/02/08


Photo Shoot for Lohas Magazine (China) February 2008 issue 1/21/08


Photo Shoot for Icon Magazine (Singapore) December 2007 issue 12/22/07


Vivian in SG for the Singapore Star Awards 2007 (12/16/07) 12/22/07


Vivian at Christmas Lighting Ceremony in Guangzhou (12/07/07) 12/17/07


Vivian at NPV's 1st Anniversary Celebration (12/02/07) 12/17/07


Vivian's visit to Congo with World Vision (Oct. 16-Oct. 23, 2007) 12/02/07


Vivian at Shiseido Shop Grand Opening Event (8/28/07) 11/11/07


Vivian at Shiseido fundraising activity (7/22/07) November 11, 2007


"Pink Revolution" Press Conference 2007 (10/14/07) October 29, 2007


Vivian at New Tod's Store Event in Singapore (10/10/07) October 21, 2007


Vivian at Leo Ku's concert on September 12, 2007 October 9, 2007


Vivian at Leo Ku's concert on September 9, 2007 September 29, 2007


Vivian at Leo Ku's concert on September 7, 2007 September 24, 2007


Vivian Shiseido Revital Press Conference 2007 (8/28/07) August 31, 2007


Behind the scenes at Vivian Shiseido Event (8/28/07) August 29, 2007


Making of Vivian's New Shiseido Print Ad 2007 August 25, 2007


Pantene Press Conference (11/28/06) July 4, 2007


Vivian's trip to East Africa (June, 2007) June 24, 2007


Vivian's visit to Laos with World Vision (May 7-May 10, 2007) June 24, 2007


Vivian and Friends Part 2 April 1, 2007


Vivian and Friends March 25, 2007


2006 JSG Music Awards show (January 13, 2007) March 20, 2007


Vivian attending Hacken Lee's wedding banquet (11/28/06) March 20, 2007


Vivian at Miss Chinese Cosmos Pageant (10/28/06) 2/12/07


Vivian at Chris Wong's "A Night to Remember" concert (10/20/06) 2/12/07


Chris Wong and Vivian rehearsing for Chris's HKPO concert (10/16/06) 2/12/07


"Pink Revolution" Press Conference 2006 (10/12/06) 2/04/07


Celeb Night 2006 in Taiwan (September 22, 2006) 2/04/07


Celeb Night 2006 Press Conference in Taiwan (9/22/06) 2/04/07


Vivian Shiseido Press Conference (September 30, 2006) 1/30/07


Phillip Wain 30th Anniversary Private Party (September 8, 2006) 1/30/07


Vivian at graduation ceremony for the elderly (8/13/06) 1/23/07


Vivian at NPV event at East Point City shopping mall (7/15/06) 1/23/07


Phillip Wain 30th Anniversary Press Conference (7/13/06) 1/23/07


Vivian at "MICHELE Watch & Jewelry" Launch Party (May 9, 2006) 1/23/07


Vivian at Parsons Music shop (May 4, 2006) 1/16/07


Vivian "Back for Love" 2006 Concert Press Conference (4/24/06) 1/16/07


Vivian "Dance Across Asia" Phillip Wain Press Conference (3/29/06) 1/16/07


17th Annual Best TV Index - Best Show Award Presentation (3/17/06) 1/08/07


Vivian at Shiseido fundraising activity (2/18/06) Jan. 8, 2007


Vivian and Joe watching Hacken Lee's concert (1/28/06) Jan. 8, 2007


Vivian at LV store grand opening (January 25, 2006) Jan. 8, 2007


Vivian at Joe's Billiards & Bar Grand Opening (1/8/06) Jan. 8, 2007


Vivian at Christmas Lighting Ceremony (11/30/06) 12/24/06


Pantene Press Conference (Dec. 1, 2005) 12/11/06


Vivian at Christmas Lighting Ceremony (Nov. 26, 2005) 12/11/06


Vivian at DTC Forevermark Celebration (Nov. 24, 2005) 12/11/06


Vivian at Awards Presentation Banquet (Nov. 20, 2005) 12/11/06


Vivian at TVB's 38th Anniversary Show (Nov. 19, 2005) 12/11/06


Vivian Fans Gathering - November 12, 2006 11/20/06


Vivian at Raffles Hotel in Singapore (November, 2006) 11/07/06


Vivian Shiseido Press Conference in Malaysia (10/07/06) October 9, 2006


Vivian's New Shiseido Print Ads 2006 September 29, 2006


Making of Vivian's New Shiseido Print Ad 2006 September 27, 2006


Vivian acting in Leo Ku's MV "Too Late To Love" August 22, 2006


Vivian at movie premiere of "Helen The Baby Fox" (7/13/06) July 19, 2006


Vivian's Childhood Photos June 29, 2006


Vivian visits elderly home (September 24, 2005) December 24, 2005


Vivian at Zing's cocktail party (September 15, 2005) December 24, 2005


Pantene Print Ad and Pantene T-shirt December 4, 2005


Making of Vivian's New Pantene TV Commercial November 17, 2005


Making of Vivian's New Shiseido Print Ad August 26, 2005


Shiseido Whitening Print Ads June 20, 2005


Vivian and Joe in San Francisco (June, 2005) June 16, 2005


Vivian at "Cool Valley" event / Joe's birthday (April 26, 2005) May 28, 2005


Vivian at Leo Ku's Part 2 Concert (April 6, 2005) May 15, 2005


Shiseido REVITAL White Press Con - Part 2 (March 21, 2005) April 25, 2005


Vivian at Leo Ku's Concert (March 8, 2005) April 25, 2005


Shiseido Press Con & Interviews (March 21, 2005) Mar. 31, 2005


Shiseido REVITAL White Press Con - Part 1 (March 21, 2005) Mar. 30, 2005


Vivian in Japan (November 2004) Mar. 9, 2005


2004 JSG Music Awards show - Part 2 (January 8, 2005) Feb. 21, 2005


2004 JSG Music Awards show - Part 1 (January 8, 2005) Feb. 6, 2005


'HK Smoke Free Workplace...' Award Ceremony (January 6, 2005) Feb. 1, 2005


Shiseido Taiwan Press Con (October 7, 2004) Nov. 21, 2004


"Happy Sunday" TV program (October 6, 2004) Nov. 21, 2004


Shiseido Event (October 16, 2004) Nov. 12, 2004


Shiseido Print Ads in 2004 Nov. 7, 2004


Shiseido Press Con (August 26, 2004) Oct. 29, 2004


Vivian at HK Book Fair (July 21, 2004) Aug. 25, 2004


Vivian at Sam Hui's concert on June 15, 2004 July 11, 2004


Vivian at Sam Hui's concert on June 5, 2004 June 26, 2004


Vivian's Book Press Conference (April 21, 2004) May 21, 2004


Vivian at Chris Wong's Concert (Oct. 10, 2002) Dec. 29, 2002


Vivian's Photo Album Dec. 28, 2001


Another VC Gallery Aug. 1, 2000


Vivian at HKSAA Fundraising Event (Feb. 13, 2000) Feb. 18, 2000


Vivian's Taiwan Events in the '90s Apr. 23, 2003


Vivian's HK Events in the '90s November 4, 1999


Vivian's Fan Club Meetings 1997-1998 Jan. 7, 1999


Past Main Page Pictures


Vivian on Singtao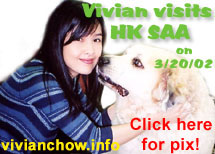 Created by Janice Lo


Back to Vivian Chow's Place
** Please turn off Ad blocking if you're having problems seeing the Shiseido and Pantene Print Ads
** Internet Explorer 8.0 has an Auto Image Resize feature which automatically resizes a large image to fit within the current browser window. This often reduces the quality of the resized image. You can view the full-sized image by moving your mouse over the lower right corner of the resized image and clicking on the icon that appears, but it's strongly suggested that you turn off Auto Image Resize.
To turn off automatic image resizing :
go to the Tools menu in IE 8.0.
Click on Internet Options at the bottom of the menu.
Click on the Advanced tab (the last tab).
Scroll down to the Multimedia section. Look for the line which says Enable Automatic Image Resizing and uncheck the box.
Click on OK at the bottom of the window.
You can now view images in its original size.