Vivian's visit to Nepal with World Vision (Feb. 4 - Feb. 8, 2009)


Vivian, Charlene Choi, Hins Cheung, and Sai So visited Nepal with Hong Kong World Vision to understand about the living conditions of the local families. Vivian has sponsored 4 children from Nepal, 3 boys and 1 girl. Their names are Bikram, Sujina, Sundar, and Sujan.


Update - March 10, 2009

Photos provided by Vivian's Official Website : www.vivianchow.asia

THANKS to Vivian and Carmen for these photos!!


| | | |
| --- | --- | --- |
| | | |
| Vivian, Charlene Choi, and Sushmita. | | Vivian and Sushmita. |
| | | |
| --- | --- | --- |
| | | |
| Vivian and Sushma. | | Vivian, Charlene, Sai So, Hins, and Sushma's family. |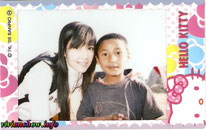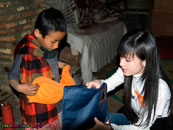 Vivian and her 7-year-old sponsored child, Sundar. Vivian said Sundar looks like Joe when he was little. ^_^
| | | |
| --- | --- | --- |
| | | |
| Vivian and Puran's family. | | Vivian and her sponsored child, Sujina. |
| | | |
| --- | --- | --- |
| | | |
| Vivian and her sponsored child, Bikram. | | Bikram, Sushmita, Sudha, Sujina. |
| | | |
| --- | --- | --- |
| | | |
| Vivian and her sponsored child, Sujan. | | Vivian and Sujan's family. |
More Photos at my903.com
---
Source : Apple Daily and The Sun newspapers - February 7, 2009
---
Source : The Sun newspaper - February 10, 2009
---