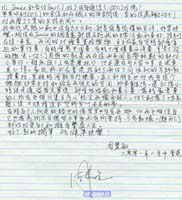 Actual letter!
Hi Janice and all my fans. It's been a while since I've written a letter. How are you?

I often receive your letters and your messages on the Internet asking how I am. I'm very thankful for your long lasting support and care.

My life recently isn't too different from the past, it's a simple lifestyle. I'm very happy. I believe Janice's website mentions my regular activities and hobbies, and specifically during this year, I started to regain my interest in painting/drawing. On an ordinary day when I'm at home and have free time, I would pick up a brush and paint; sometimes I would paint Chinese paintings, sometimes I would paint Western paintings, enjoying different types of tastes. The paintings you have seen are a small collection of my work during these past 2 years while I learned drawing myself. Although there's not much technique presented, but I just wanted to share it with everyone, to exchange suggestions or comments you might have. In HK, I've recently found 2 instructors from different branches teaching me painting/drawing skills, and the rest of the time I practice on my own. My family and friends really support me in my interest of painting/drawing, and they have given me lots of freedom; it's very rare. I remember during my childhood days whenever I finished studying, I would sing songs and draw small drawings: at that time, I loved to draw the TV characters Siu Lo Bo (Robocon?) and Mung Min Chiu Yan (Kamen Rider). Who would have guessed after more than 10 years of being an artist (singer/actress), I would be able to continue to chase after another unfinished dream.

Sometimes it seems like each person's road in life has already been paved, but I believe we should all work hard towards our goal, and to stay firm and not be easily moved. I wish we all love ourselves and have a wonderful life.

Okay, let's stop here. I wish you health and happiness!